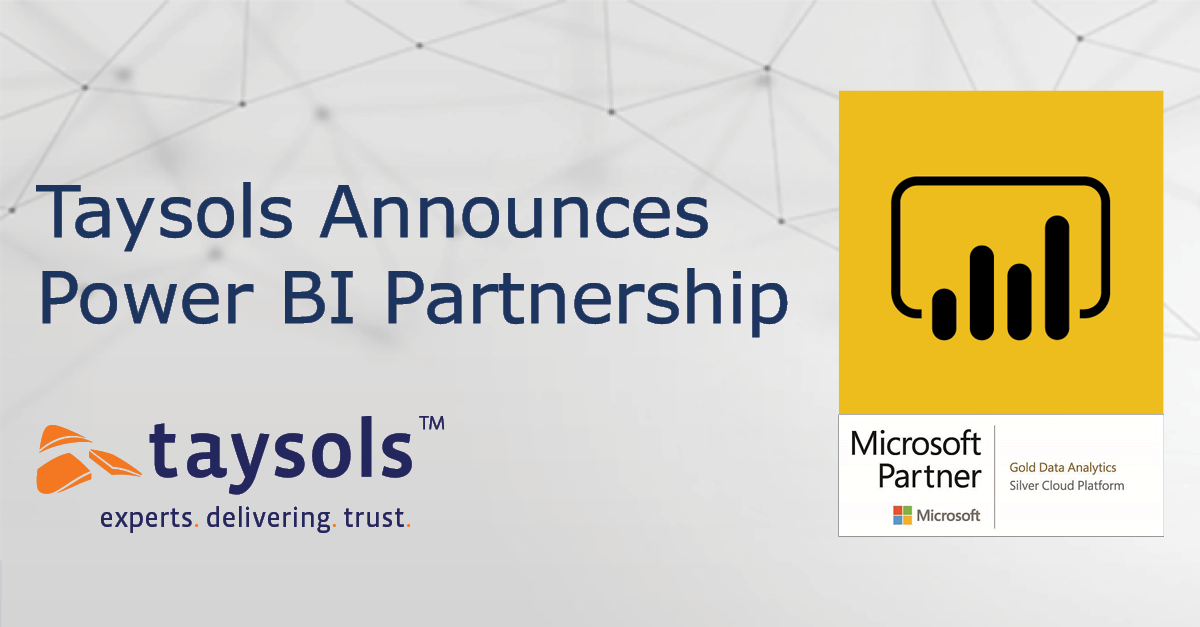 Sydney, Australia, July 6, 2020 – Taysols, trusted experts in advanced analytics, EPM, ERP and data management solutions, is delighted to announce their achievement of Microsoft Power BI Partner status.
Jayson Hammond, Managing Director of Taysols, said, "Taysols achieving Power BI Partner status with Microsoft is a testament to the continued professionalism and capability of our team. This partnership marks a significant milestone in our ongoing commitment of providing leading analytics and data solutions for the Australian business community."
Since attaining Microsoft Gold Data Analytics and Silver Cloud Platform Partner status in 2018, Taysols has continued to remain at the forefront of providing advanced analytics and data management solutions in Australia. Attaining Power BI Partner status represents the continuing evolution of Taysols robust service offering and commitment to enable leading organisations to outperform in any market.
Recognition as Microsoft Power BI Partners ensures leading organisations experience trust when choosing Taysols to bring their Power BI projects to life.
To learn more about what your organisation can achieve with Microsoft Power BI and Taysols, please visit: https://www.taysols.com.au/en-au/power-bi
About Power BI: Microsoft Power BI empowers teams to uncover hidden insights by translating data into visually compelling outputs. Microsoft Power BI can unify multiple data streams into a universally understandable format, providing all stakeholders with unprecedented clarity.
Microsoft Power BI's powerful data visualisation can drive evidence-based decision making for an entire organisation. By transforming previously granular data streams, Power BI ensures clear communication of insight and evidence to key decision-makers, helping to define organisational strategy, improve operational efficiency, and navigate dynamic market conditions.
Microsoft Power BI Partner status is awarded to experienced providers recognised for their ability to provide the necessary recommendations and assistance for organisations to achieve their business goals. A Microsoft Power BI Partner ensures organisations experience accelerated Power BI implementation through practical training and auditing of organisation data.
About Taysols: Founded in 2002, Taysols are experts in delivering Enterprise Performance Management and Business Analytics solutions, and has undertaken over 400 engagements for public, private and international organisations.
For two decades, Taysols has assisted leading organisations to unlock the mysteries within data and experience trust in their systems. Taysols provides consulting, support and cloud services for leading organisations in Australia, Europe and North America.
Taysols is a joint venture (one third) owner of the Business Analytic Alliance "BA2" company with operations throughout North America, Europe, Africa and the Middle East. Taysols' ownership of the Business Analytic Alliance "BA2" ensures international organisations receive both local and 24/7 support.
For more information: www.taysols.com.au