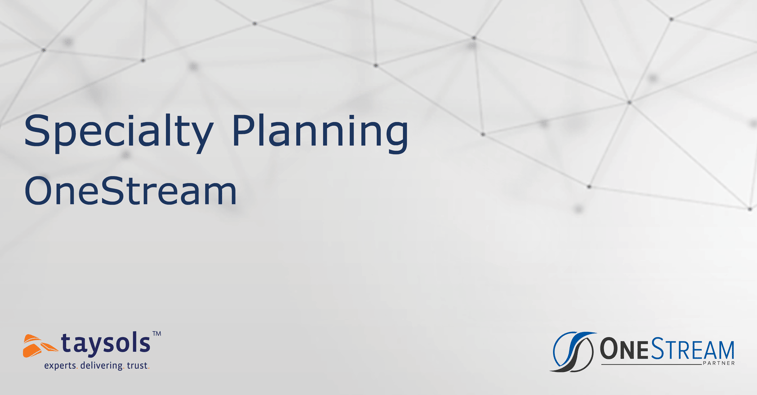 Written by Jason Capouch, Principal Consultant, Taysols
As the amount of data available to us in the modern age has rapidly increased, so too has our desire to unlock and understand the insights within the data. This exponentially increasing volume of data has also repeatedly forced Planning solutions to evolve in order to keep pace and provide accurate budgets and forecasts for organisations.
Looking back, Excel modelling was the first significant evolution for organisation budgeting and forecasting. While not perfect, Excel was a desperately needed replacement for pen-and-paper modelling and gave organisations a standardised tool for planning their future.
The next key advancement was the development of Multidimensional Cubes in the 1990s. Multidimensional Cubes gave organisations the ability to work with much larger data sets, quickly consolidate results, and improved security.
Now, after nearly thirty years, we get the next significant step forward - Specialty Planning from OneStream.
What's special about Specialty Planning?
OneStreams' Specialty Planning is a non-Cube-dwelling relational planning and forecasting engine.
The major difference between OneStream Specialty Planning and legacy EPM systems is OneStream's Speciality Planning sits outside of a Cube in relational tables.
By using relational tables, each of the Speciality Planning solutions can receive data directly from source systems, spreadsheet templates, or by manually entering records into the primary interface.
Additionally, by using a relational register to store source data and calculated values, Specialty Planning provides users with greater flexibility and control in choosing what data to push into the Cube(s).
What can OneStream Specialty Planning do?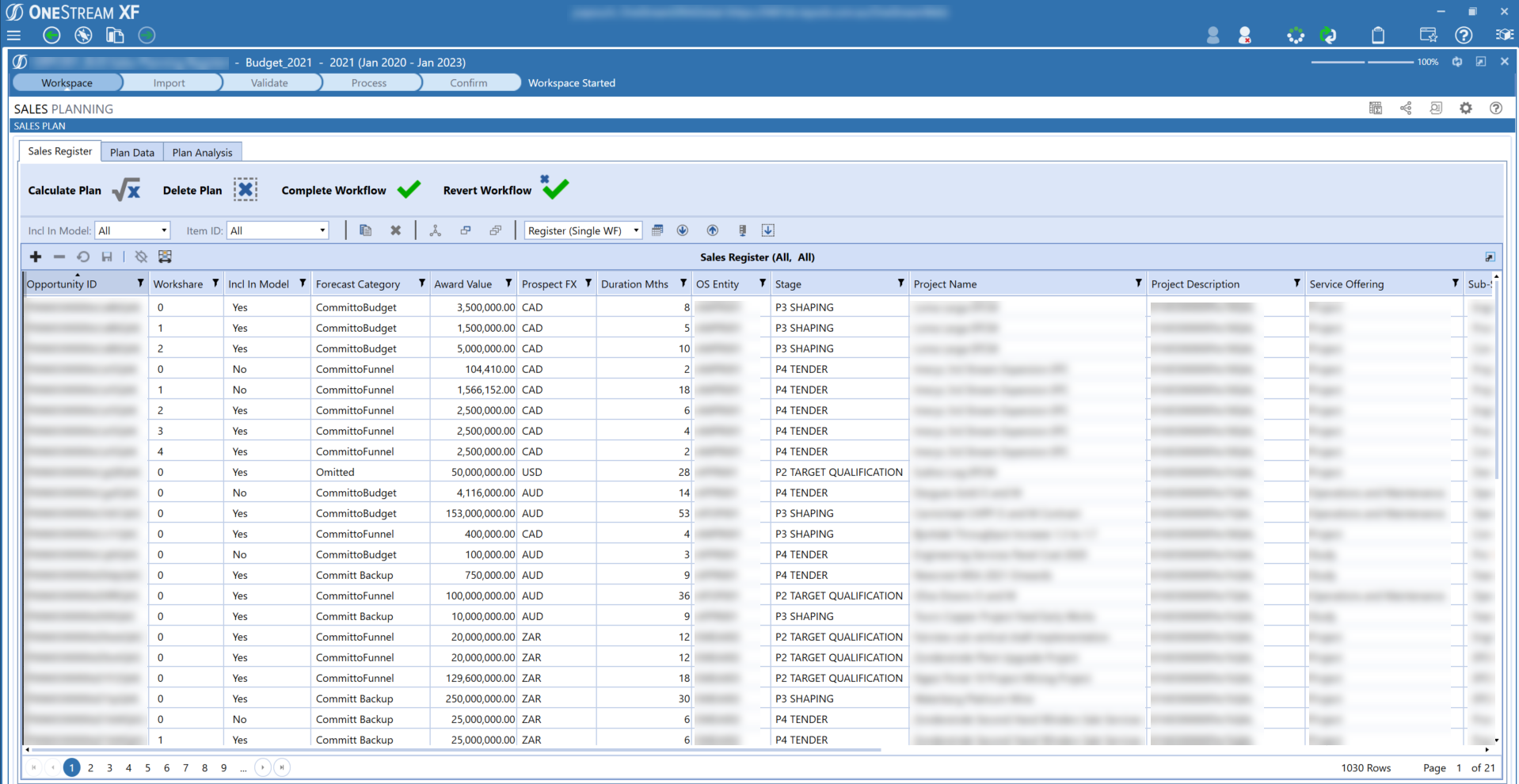 Image of the out-of-the-box OneStream Sales Planning Register
OneStream's Specialty Planning includes several out-of-the-box solutions that are function-specific, such as:
People Planning

Employee compensation
Employee benefits
Travel

Cash Planning

Accounts Payable
Accounts Receivable
Investments
Capital Expense
Financing
DSO/DPO

Capital Planning

Capital Assets
D&A
Maintenance
Insurance

Sales Planning

Plan sales opportunities by Prospect for Revenue, Expense, Margin, etc.

Thing Planning

Unique models
Product/SKU
Projects
OneStream's Specialty Planning solution comes with a multitude of specific pre-configured dashboards and objects to help you get started straight out of the box. While OneStream Specialty Planning is usable with minimal configuration, it is also highly customisable - Administrators can set up the calculations that derive new accounts and configure the interface to allow users to view and modify specific fields.
Why use Specialty Planning?
Simply, it's faster, more efficient, and more powerful.
Relational data is stored outside of a Cube, allowing financial, operational and transactional data to 'live where it belongs', circumventing the issue of excessive data volumes hindering Cube performance.
While traditional Cubes can handle large amounts of data, there is always a point where data size begins to affect performance adversely. The relational nature of OneStream's Specialty Planning allows for vast amounts of data to be stored while maintaining peak performance and responsiveness.
OneStream Specialty Planning users can also drill back to the relational register data from a Cube to see additional details. If there is a two-way source connector set-up, users can even go one step further and drill into the original data source.
Users can report on the data in the relational register, blend it with Cube results, or even join it to other relational tables. The possibilities for reporting are endless, and OneStream gives users unrivalled options to suit their requirements.
Using relational tables and In-Memory data allows OneStream Specialty Planning to make faster calculations than with a Cube. A typical Cube needs to be calculated and aggregated, requiring overhead to search for values and write results. OneStream Specialty Planning excels in calculation speed as it doesn't need to touch a disk and leverages the power of in-memory relational tables.
How do you get Specialty Planning?
OneStream's Specialty Planning is available for free on the OneStream platform for licensed customers. The setup is simple and takes a couple of minutes to complete. All you need to do is download the installation packages from the OneStream XF Marketplace and load them into your OneStream application environment.
If you'd like to find out more about the OneStream advantage for your organisation, download this free White Paper