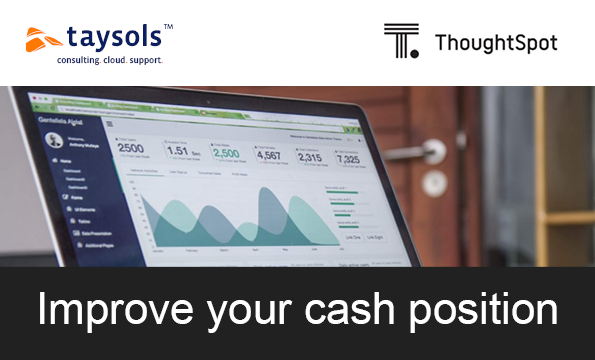 Immediate insights into your cash position

To successfully navigate your organisation during this challenging period, knowing your current cash position and its risks is crucial.
A large portion of your cash could be tied up, pending in Accounts Receivable but how do you know? It has never been more important to know how much risk is in Accounts Receivable.
Now is the time for quick and accurate analysis, allowing you and your team to focus on minimising risk, increasing your cash position, and preparing your organisation for future growth as business resumes.
At Taysols, we pride ourselves on our ability to deliver trust.
In this recording of our webinar you will see how ThoughtSpot, a search and AI driven analytics platform, is able to instantly analyse 50,000 drilldowns related to your Accounts Receivable data and use Artificial Intelligence to produce relevant insights for your team to analyse. Importantly, all of this can be achieved in weeks, not months and deliver to you the advantage of instant insights.
Please reach out to us now if this area is urgent for you, or alternatively, watch the recording of our webinar where you will see ThoughtSpot in action tackling this critical challenge that all organisations are facing right now.
Enter your your details on the right to download the recording of this webinar!