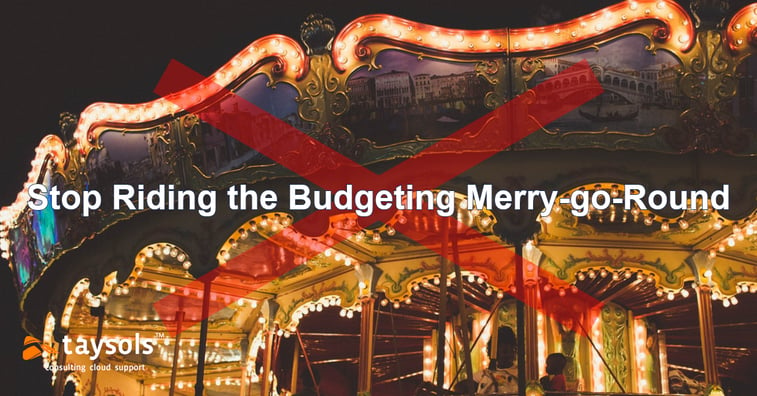 How to Prevent the Budgeting Merry-Go-Round
It's one thing to know you're on it. It's another to get off. But avoiding it? That requires a few key things to be in place.
We've covered how to identify you're on the Budgeting Merry-go-Round, and how to get off the Budgeting Merry-go-Round, but how do you prevent the Budgeting Merry-go-Round entirely?
Communication from the Top
Great communication is a core component of great leadership. Keeping multiple departments and teams on target requires consistent and clear communication.
A large portion of this is planning (pardon the pun).
The finance team is usually familiar with the organisation's plans, whether it's an expansion into a new market, or Capex to facilitate an increase in sales growth. Unfortunately, not all departments may know the details or have forgotten them since the last update. Further, have the systems been updated to reflect the implications of the changes and their impacts on the budgeting system and its validations and integrity checks.
Having clearly defined organisation-wide goals and keeping departments abreast of developments and the changes to the system throughout the year can help prepare them for any potential budgetary shock in the next planning cycle.
It's important to ensure all levels of a department are familiar with the organisation's goals, and not just senior management. Regular strategy and system updates which are communicated and reinforced to the broader team ensures the "feet and hands know what the head is thinking". A set of 'tips & techniques' and things 'to look out for' can make everyone's job easier.
Clear communication of goals and direction assist in reducing push-back to any budgetary changes and prevents you from riding the Budgeting Merry-go-Round.
Training and Adoption
One of the causes contributing to the budgeting Merry-go-Round is low user adoption of new and updated organisation processes or systems.
Low user adoption can lead to delays in the budget cycle as users continue to use dated and inefficient systems, consequently compounding workflow inefficiency problems and potentially creating more errors with additional forensic accounting challenges.
A key driver for low adoption is unfamiliarity.
When an employee is unconvinced of the benefit and advantages in using a new system or process, they are more inclined to remain with their "tried and true" methods such as spreadsheets or other inefficient but familiar methods.
This arises due to a poor understanding of the new system's functionality and capability.
To combat this, suppliers often provide additional or on-demand "refresher" courses and structure training specifically tailored to increase user adoption.
Taking full advantage of your supplier relationship for additional team training in the lead up to the Budgeting process can ensure users are comfortable, capable, and actively use the correct platforms and processes during your budgeting cycle.
Organisation Platforms
Some organisations are truly massive, employing tens of thousands of people across several time zones and business lines. Processes and systems that are perfectly serviceable for smaller groups are woefully inadequate at facilitating these organisations.
Enter Enterprise Performance Management (EPM) solutions.
EPM solutions are designed from the ground up to facilitate national or international organisations with their group-wide FP&A and management & statutory reporting functions. Whether it's account reconciliations, statutory and tax consolidations, forecasting, planning and budgeting, great EPM systems are made to streamline the entire process for medium to large organisations.
A key benefit of EPM solutions is their powerful ability to homogenise interdepartmental processes, allowing for department finance teams to integrate and unify their data, workflows and reporting.
Additionally, by being a unified platform, EPM solutions allow authorised users to rapidly and accurately drill down to identify sources of discrepancies, inconsistencies or indeed opportunities. This means in the event of inconsistent figures or inaccuracies, instead of taking days or weeks to sift through data hoping to find the discrepancy, it can be resolved in literally minutes – no more forensic accounting headaches. As good as this is, and it is, modern EPM systems also allow companies to streamline their changes to organisational rollups, initiatives and reporting needs.
By homogenising the planning & reporting processes across the entire organisation, EPM systems allow for rapid and accurate budgetary planning, as it's now easier and simpler to get accurate comparable drivers and results.
Great EPM systems are key to preventing the budgeting Merry-go-Round as they allow the finance team to keep their "finger on the pulse" and to regularly assess the organisation's finances from the one system.
This concludes our blog series on the budgeting Merry-Go-Round. If you'd like to learn more about managing the budgeting Merry-Go-Round and achieving budgeting success, download your free Taysols Tip Sheet by filling the form at the the top right of this page.