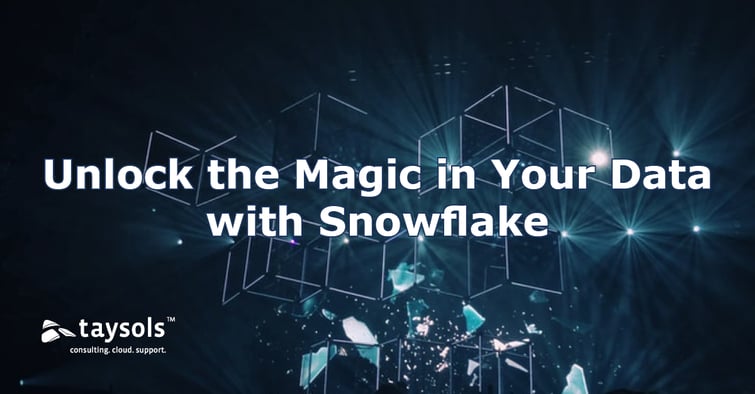 Five Benefits Snowflake Provides Every Organisation

The last 15 years has seen incredible innovation and changes within the systems we all use for work. 20 years ago screens were 20kg and took up almost two cubic feet of your desk. Now they're under 5kg, wide and slim and clear and colourful .
Likewise, the systems which service an organisation have changed considerably too. From floor-to-ceiling server banks taking up entire floors in special rooms, data warehousing systems are now in the Cloud and accessed from a smartphone.
Just like the revolution that has occurred in hardware, Snowflake has revolutionised data warehousing.
Snowflake has revolutionised data-driven decision making. Built from the ground up for full realisation of the Cloud, Snowflake has set the standard in assisting organisations store and consolidated their data, allowing them to use their data to achieve its full potential with minimal effort and ongoing optimisation and maintenance
Here are five benefits Snowflake brings to every organisation:
No downtime
Snowflake is fully actualised in the Cloud and doesn't require regular downtime for server backups or patches.
This means there are no periods of inaccessibility.
It's all done in the background - organisations with Snowflake have 24/7 access to their data.
Supercharge existing data lakes
Large organisations often face fiscal and performance barriers when managing large data lakes. From hardware performance, incomplete data security, or poor data governance, older data lakes can cause significant headaches delaying critical insights and putting data at risk.
Snowflake is flexible and designed to combine the near infinite resources of the cloud with the needs of modern organisations.
You can use Snowflake as your central data repository, unlocking its full potential, or you can use Snowflake as your data lake and facilitate dataflows from several different existing repositories utilising Snowflake's governance to secure all databases within the lake.
Data Exchange
Data sharing is increasingly crucial to the success of many business operations. Whether it's inventory management and supply chains, sales volumes and forecasts, or even big data for deep analytics, the ability to securely share data has become increasingly important.
Snowflake Data Sharing allows for granular control and live secure access to any data stored in Snowflake to users within or outside your organisation, without the danger of moving and copying the data.
Snowflake's Data Sharing is also performed at the database level, and all shared data are first-class objects – the data exists independently and can be manipulated and queried as necessary allowing approved data teams the ability to independently and effectively analyse the data.
Accelerated Analytics
The demand for data-driven decision making has exponentially increased. Organisation are increasingly looking for new ways to enable a culture of data, and are encouraging teams to use data in driving sound decision making.
Snowflake incorporates all the user advancements and quality-of-life improvements over the last twenty years, bringing non-technical users and data teams onto the same page, with the ability to combine all structured and semi-structured data into a single governed source.
Better innovation
Older data warehouse solutions weren't designed with multiple data types in mind, or even for the sheer volume of data we produce today. Often left flat-footed in the face of rapidly changing demands of end users, it's only a matter of time before older systems are unable to cope.
Snowflake is designed to be flexible and scalable. Snowflake can harness the full power of the Cloud and through its data architecture, is able to support any scale of data, workload and users.
When Snowflake's flexibility is combined with its ability to load both semi-structured and structured data, authorised users can to 'spin up' new environments as needed, giving data teams the ability to rapidly collaborate and innovate to uncover valuable insights.
Importantly, and revolutionarily, Snowflake is 'self-optimising' and significantly alleviates the need for advanced DBA skills to constantly optimise schemas and views. Further, because it can scale so well, it has inbuilt functionality to optimise cloud resources, scaling up and down as required thus decreasing the cost of storing and analysing data.
If you would like to learn more about the benefits Snowflake can provide for your organisation, click here.