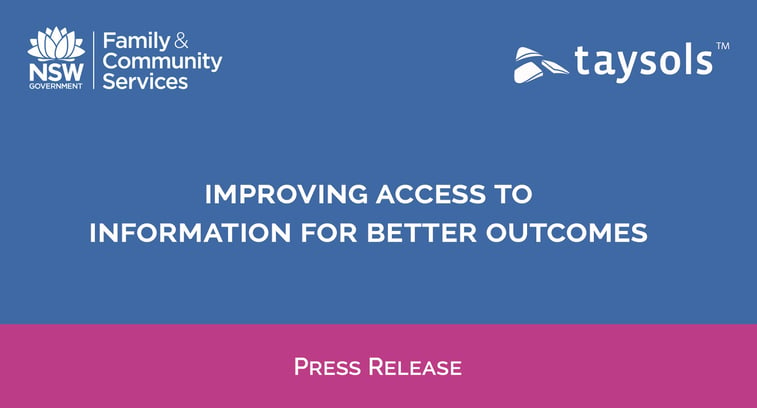 Taysols announced today that it is working with the Department of Communities and Justice (DCJ) to deliver greater insights into the services DCJ provides children by improving the technology that delivers these insights to caseworkers and other carers.
DCJ works with children, adults, families, and communities to improve lives and help people realise their potential. DCJ has a statutory responsibility to protect children and young people from risk of significant harm.
The implementation of the new IT system, ChildStory, DCJ required data warehouse improvements, reports and dashboards that would help report on and manage the various families and children that DCJ assists. It was therefore necessary to upgrade the Corporate Information Warehouse (CIW) to work seamlessly with ChildStory.
Taysols is working closely with the DCJ team to create a solution that includes building reports and dashboards built in OBIEE, extract, transform, load (ETL) capabilities using Informatica, and a data warehouse based on Oracle. The source data comes from Salesforce.
Mark Taylor, founder and director of Taysols, said, "Taysols is pleased to be part of this important project which, ultimately, is aimed at creating better outcomes for children in need. Access to better data and insights is an essential component of the ChildStory program, making the CIW mission-critical for DCJ. The strong working relationship between Taysols and DCJ is a crucial element of this project's success. With Taysols' focus on delivering high-quality outcomes, we've been able to help DCJ evolve their team on the ground with ongoing support along with system analysis, development, testing and deployment."
The implementation was challenging, in part because the CIW project was run in parallel with DCJ's implementation of the new source system. This created challenges because data warehouses normally rely on stable underlying data structures. However, because the source system was being implemented at the same time, it meant the data structure was constantly evolving, which had a flow-on effect to the ETL and data model development for the CIW. Despite this challenge, and after significant effort over several months, Taysols delivered the original CIW piece of work on time, just four short weeks after ChildStory went live. Taysols and DCJ continue to deliver new information, enhancements, and updates every eight weeks.
Owen Griffiths, DCJ director of information management, said, "DCJ enjoys a strong working relationship with Taysols, which has seen the successful delivery of this project. It was important to work with an organisation highly experienced in OBIEE and data warehouse projects, and Taysols delivered a high-quality outcome. DCJ continues to rely on Taysols for expertise focused on the delivery of the CIW."
About the NSW Department of Communities and Justice
The Stronger Communities cluster works with children, adults, families, and communities to improve lives and help people realise their potential. DCJ is the agency in NSW with statutory responsibility for protecting children and young people from risk of significant harm. In executing government policy, DCJ uses the organisation's capabilities in child protection, housing, homelessness, and community inclusion to deliver on key priorities.
About Taysols
Taysols is a premier provider of consulting, cloud and support services in the domains of enterprise performance management (EPM), business intelligence (BI) and Artificial Intelligence (AI). Taysols has established solid credentials with the leading suppliers of EPM / BI / AI solutions and has gained a reputation that makes Taysols one of the most sought after implementation partners for advanced analytics solutions in the region. Taysols is a founding owner of the globally operating BA2 business, serving organisations around the world. For more information, visit our website www.taysols.com.au or contact us at info@taysols.com.au.