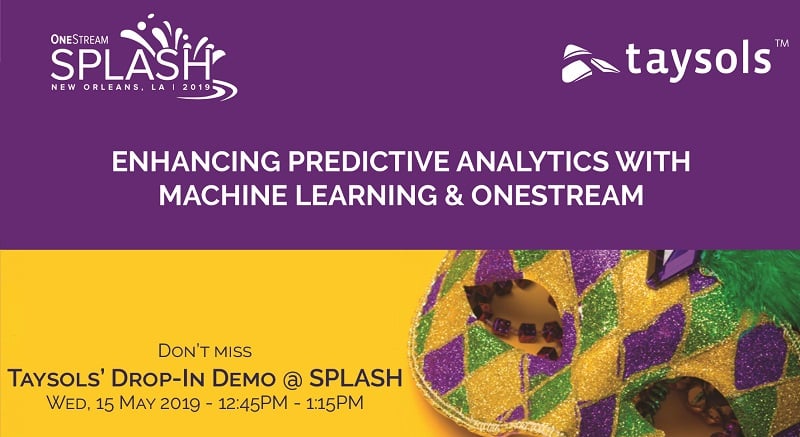 Data Science and Artificial Intelligence is finding its way into traditional finance functions.
Attend our Drop-In demo at OneStream's SPLASH conference in New Orleans in May to see a live demonstration of how we compliment the forecasting and predictive analytics functions in OneStream through the use of Artificial Intelligence.
Taysols' Dr Daniel Bassett, Chief Data Scientist and Mr Aaron Whitford, Performance Management Lead will demonstrate advanced Machine Learning tools and algorithms and OneStream working together to provide more insight into your forecasting processes.
About the speakers:
Aaron Whitford is Taysols' National EPM Practice Lead and overseas the enterprise performance management (EPM) space of the business, dealing with stakeholders at all levels of business in the corporate, manufacturing, transport and public sectors. Aaron has been working in the industry for over 19 years now and has extensive experience in the implementation of system development projects covering all aspects of the system development life cycle, including analysis, design, development, testing, training, and deployment.
Daniel Bassett is a PhD qualified data scientist with a passion for answering questions with sophisticated analytical tools and techniques. His unique combination of skills in science and computer programming has allowed him to create specific tools to analyse and solve difficult data-based problems and further lead to the translation of business data and requirements to meaningful and easily understood output. Daniel is Taysols' Chief Data Scientist.
EVENT DETAILS
SPLASH 2019 - NEW ORLEANS
Wednesday, 15th May 2019
12:45PM - 1:15PM
New Orleans

REGISTRATIONS FOR THE EVENT ONLY VIA
SPLASH 2019!
---